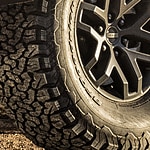 If you're itching for a new kind of adventure, a great option is off-roading. Advanced off-roading allows you to explore magnificent landscapes, all while challenging yourself and your vehicle to navigate the unforgiving terrain. Setting off on an off-roading trek can be dangerous, though, if you don't first make the proper preparations. Here are a few ways to prepare yourself and your vehicle for a successful run.
The first thing you'll want to do is gain information. For some great hands-on learning opportunities, you can join a local off-roading club. These clubs often offer beginners' courses that allow you to experience off-roading for yourself. Once you've gotten some off-roading skills under your belt in Beaverton, OR, you can then invest in some mods for your vehicle. One of the most important investments you'll make is in good off-roading tires. These tires have to be rugged and able to be partially deflated for successful rock climbing treks.
To see if your vehicle is ready to head off-road, you can stop by the service center at Herzog-Meier at your earliest convenience.